POSTED BY Robert McDonald AT 4:55 P.M. January 28, 2016
ipCapital Group is a consulting firm that helps businesses solve complex problems. One of the complex problems that we have been focusing on recently is how to make innovation more successful. We measure innovation success as a combination of both the number of new innovations and the rate of successful implementation. Innovation without implementation serves neither the company nor its customers.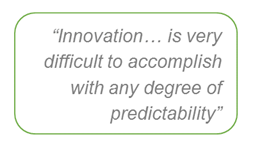 Two things are universally acknowledged about innovation: first, the word is overused; and second, it is very difficult to accomplish with any degree of predictability. An example of just how difficult this can be is reported in a November 26, 2014 HBR article entitled "A Chief Innovation Officer's Actual Responsibilities." We agree with the conclusions of the HBR article. From our work with clients we have concluded that there are four major elements necessary to have any chance of creating focused, implementable innovation that meets your business needs: The Four Pillars.
Pillar One: Organizational Structure
A clear organizational structure with both direct involvement and a stated commitment from senior executive leadership is fundamental to innovation. In a study conducted by Dr. David Shore (Harvard University), he reports that more than 60% of all C.E.O's say that a focus on innovation is their most important responsibility. Nevertheless, in a large study conducted by PWC on "global innovation," 46% of the respondents rated the ability of their organization to generate ideas and then convert those ideas into successful products as "marginally effective," read, we are really BAD at this. Further, a study published by Accenture suggests that innovative ideas are often "sabotaged" by entrenched product and market managers, because the innovation threatens existing incentives for those managers. Our work with clients suggests that one of the key problems here is a lack of consistent senior executive commitment to support the innovation needed. A second key problem we have seen is deficient senior executive commitment to the time it takes to implement new innovation in a product or business line.
Pillar Two: Recognition of Innovation Type Needed
Without a clear understanding of the type of innovation needed and how it ties to business objectives, implementable innovation is highly unlikely. One study by a national accounting firm suggests that less than 3% of all innovative ideas achieve a positive return on capital invested. From our work, we have found that the root problem is a lack of clarity surrounding the type of innovation needed to meet the objectives of the business. In other words: the ideas generated do not support the needs of the business unit that will ultimately take them to market. The three types of innovation (what we call the "Three D's") are the subject of another article in this series.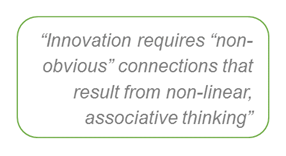 Pillar Three: Associative Thinking
Most of us have achieved our professional success by being good "linear" (if / then) thinkers and this has been the major focus of all of our academic training. However, innovation requires "non-obvious" connections that result from non-linear, associative thinking. For example, would most of us have linearly thought to put a motor on a tooth brush, connect a radio signal to a car key, or better yet, add a camera lens to a cell phone? This is "associative" thinking and often requires the utilization of an expert facilitator to disrupt the linear thought process. Associative thinking can help to both create innovation and provide the means to socialize innovation into acceptance by product and marketing managers.
Pillar Four: A Repeatable Process
A repeatable process is needed to support an environment for on-going innovation. Examples abound on the failure of systems and processes that are not only clearly inefficient; but worse, they are also not repeatable, meaning that the process has no opportunity to evolve. Only a repeatable process will allow for the emergence of success from repeated failure. Another national study reports that "designated shelters" are needed to protect young innovation that would otherwise be "killed off" by managers. This happens because these managers see the innovation as a threat to their status quo and are heavily invested and incented to maximize the status quo.
ipCapital Group Can Help
Creating effective innovation is a complex problem. Over the past fifteen years, ipCapital Group has developed many processes to tackle complex problems that result in both successful innovation and implementation of new innovation. We have the experience and skill set to create organizational structures that drive innovation, discover the right type of innovation, create a repeatable innovation culture, and harness the power of associative thinking.
If you want a greater return on your innovation investment, we would love to talk to you about how we can help. ipCapital Group: Accelerating Innovation.