POSTED BY Adam Bulakowski AT 9:53 P.M. July 10, 2018
Below is an excerpt from the July, 2018 white paper. Read the full paper here.
Summary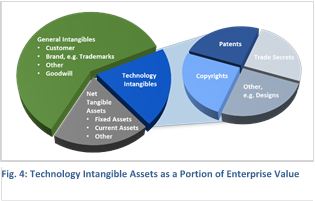 In this whitepaper, Adam discusses how companies (and countries) with unique, intangible assets and associated capabilities capture more of the value that they create from innovation activities (and remain competitive).
What is the so-called "knowledge economy?"
The United States and other "developed" countries have historically relied on an industrial economy, using physical inputs and natural resources for production. Impacted by globalization and advances in information technology – accessibility, connectivity, distribution, etc. – both developed and emerging economies now also output products and services that are based on intellectual expertise and knowledge-intensive activities at volume totaling nearly half of their respective economies. These IP-intensive industries play an outsized role in a country's global competitiveness and national progress.
While the advances in IT and globalization have spurred countries and companies to innovate, the same factors also make it easier to copy and counterfeit IP rights.
A national innovation strategy not only requires investments in education for skilled labor, basic research, information and communication technology (ICT) infrastructure, tax incentives, etc., but also an IP system with associated policies that encourage innovation and risk taking. A strong and balanced IP legal system attracts the flow of capital and provides incentive to pursue ideas that face long odds to commercialization. IP systems that are slow, unpredictable, and expensive have a chilling effect on risk takers and will favor large incumbents with deep pockets who may choose to infringe a new entrant's rights with near impunity.
Successful participants will manage IP as productive business assets (commercially and/or societally aligned) that are incorporated in business planning processes, to name a few:
linking product development with IP harvesting and creation, whether in the form of patents, trade secrets, or defensive publications;
mitigating competitive threats with specific IP tactics; and
ensuring a trade secret program encompasses HR, marketing, and other organizational functions beyond engineering; and
quantifying the specific value drivers of IP to the business units and/or overall organization.