Invent Anything™ with John Cronin. In this series, John shares insights relating to invention, creativity, and intellectual property collected over 17 years at IBM (becoming its top inventor with over 100 patents and 150 patent publications) and 23 years as managing director of ipCapital Group (working with over 800 companies and approximately 15% of the Fortune 500, hundreds of mid-size companies and hundreds of startups and governmental laboratories).
Here are just a few of the topics covered in this show:
How to create inventions that are new, useful, and non-obvious
Using creativity tools to solve problems in business and innovation
Ways to build or strengthen an intellectual property portfolio strategically
Why you want to keep patents and trade secrets as an employee, manager, or executive
Generating value from your IP through licensing, sale, fundraising, asset-based lending, and acquisitions
How to create a culture of innovation at your company
Current Events related to invention and intellectual property
And much more
Follow us on Apple Podcasts, Spotify, YouTube or wherever you listen to podcasts.
New in 2022! Invent Anything™ Presents: Inventors At Work.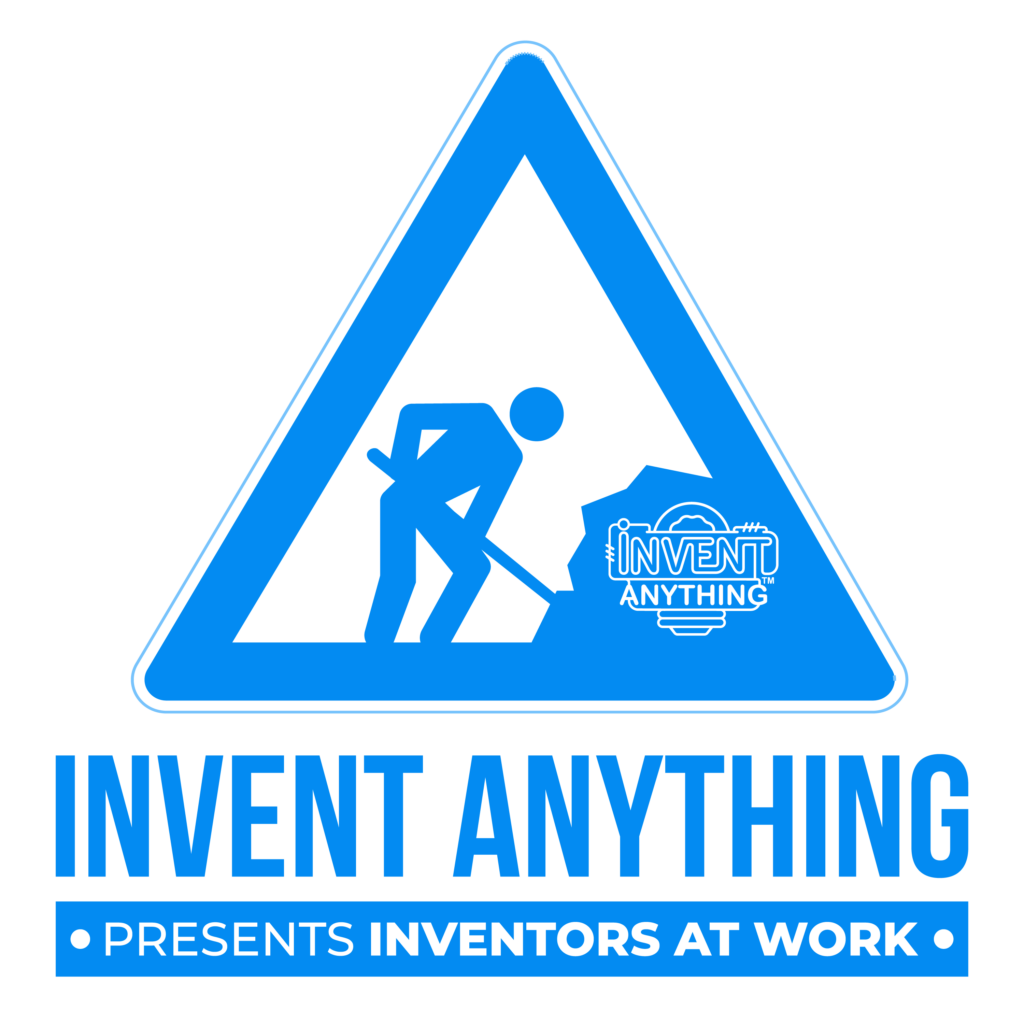 In this series, John interviews the world's greatest living inventors to uncovered the stories and lessons that lead to their innovative ideas. Find out more here.
If you're an inventor interested in becoming a guest on Inventors At Work, send us an email at inventanything@ipcg.com
Invent Anything with John Cronin | Episode Guide
Episode 1 – Invention, Creativity, and Intellectual Property
TUES., FEB 16, 2021 – In the introductory episode, John discusses his background, topics that will be covered in future episodes, and his motivations for starting the series. Also discussed are different points of view on IP issues, from the employees, managers, executives, and IP attorneys. You can also read the transcript here.
Episode 2 – The Fundamentals of Creativity for Invention

TUES., FEB 23, 2021 – In this episode, John explains the fundamental ideas that underpin any creative process. Topics discussed include:
Types of creative motivation (extrinsic and intrinsic),
The effect of limitations and freedom,
Self-assessment of creativity,
How to become more creative,
How to motivate others to be more creative,
And much more…
You can also read the transcript here.
Episode 3 – Types of Creativity: Divergent and Convergent

TUES., MAR 2, 2021 – In the third installment, John discusses two major types of creativity: divergent and convergent. Divergent creativity is the process of creating a variety of many new ideas. Convergent creativity is the process of narrowing down the list to a few valuable ideas. Additional topics discussed in this episode:
Alex Osborn and brainstorming
Tony Buzan and mind maps
Guidelines for Divergent and Convert creativity
Management styles that may kill creativity
Creativity tools for individuals, groups, and 'secret facilitators'
Differences in creativity for introverts and extroverts
and much more…
You can also read the transcript here.
Some of this material, including the divergent/convergent guidelines, was inspired by the work of others, see links below:
Learnexia – Principals of Divergent Thinking
Creative Education Foundation – What is Creative Problem Solving
Patent Infringement – Strategy
TUES., MARCH 9, 2021 – John takes on the difficult topic of what you should do when you learn you are violating a competitors patent. Patent infringement is a major threat to a business. Delving into 5 Areas of concern with 20 actions you can take to be prepared for a patent infringement lawsuit. Learn what you can do to sleep better at night, avoid willful infringement, challenge the patent, protect the future of your business, and get ready for war in the courtroom. Read the transcript here.
Episode 4 – Types of Creativity: Associative Thinking
TUES., MARCH 16, 2021 – Associative thinking is one of the most power creative tools for inventors. By combining different objects, ideas, and methods, new inventions can be made by making novel connections with your mind. In this episode, John provides detailed examples and several tools you can use to unleash the power of associative thinking. Some of these tools can be used like games, fun for kids and adults. Other tools might help you determine what type of stimulus makes you more creative. Read the transcript here.
Episode 5 – Types of Creativity: Continuous Improvement
TUES., MARCH 23, 2021 – How can you take an invention from the early idea stage to something that will work and have value? In this episode, John discusses many tools that can be used for continuous improvement thinking. By using a methodological approach to identify areas where an invention needs improvement, teams and individuals can use several tools to continuously improve ideas.
Tool 1 – Action, Owner, Date
Tool 2 – Input / Output
Tool 3 – Brain Writing
Tool 4 – S.C.A.M.P.E.R.
Tool 5 – Opposites
By mastering these tools, you can take any idea to the next level with many improvements.
Episode 6 – Enablement for Patents and Intellectual Property
TUES., MARCH 30, 2021 – In this episode, John discusses the technical details behind the process of 'enablement' – taking the invention from the conceptual stage to describing how it will work in practice. Topics covered include the many perspectives – from manager buy-in, to patent attorneys and patent examiners. In the conclusion, John discusses enablement in terms of an actual patent for a practical example.
Link to Patent Discussed in the video: https://patents.google.com/patent/US9429350B2/en​
For more information see: http://ipcg.com/blog
Episode 7 – What is a Patent (and what can it do for you)
TUES., APRIL 6, 2021 – If you've ever wondered what a patent really is, the rights that it gives you, and what they mean for your business, you're in the right place. John discusses why patents are a 'negative right', dispels some common patent myths, and explains the true value of patents to individuals and businesses.
Episode 8 – How to Get a Patent On Your Invention
WED., MAY 12, 2021 – In this episode, John discusses how to get a patent on your invention. This episode covers everything you need to know to get your first patent. You'll learn how to choose a patent attorney or a patent agent, how to prepare you invention for patent documentation, how to ensure your application will be granted, and how to get the most out of your investment in intellectual property. Additional topics in this episode include:
Patent trapdoors – what can go wrong when you file for a patent?
Office actions – Working with your patent attorney to answer rejections from the examiner
Continuations and divisional patent applications – decisions to make when you receive a notice of allowance
Patent filing fees – how to get the most out of your IP budget
Episode 9 – How to raise money and increase valuation using IP
THU., MAY 20, 2021 – In this episode, we will discuss raising more money at a higher valuation using intellectual property. CEOs, founders, CTOs, etc. who are considering raising money may consider using a unique strategy of leveraging IP to tell a better story to investors. We will discuss the meaning of intellectual property followed by the six ways to monetize intellectual property. We will answer the following questions related to IP and fundraising:
How to determine the value of your IP?
Why do investors consider IP valuable?
Why should I invest in patents as the CEO?
How to assess your current IP position?
How can you expand your IP positions beyond that so investors can take notice?
How many patents do you need?
How to tell investors an IP story to help me raise money?
Episode 10 – 6 Ways of Making Money with Patents
TUE., MAY 25, 2021 – In this episode, we will learn the six ways to make money with patents. Patents are expensive to obtain, and many inventors and executives want to maximize their ROI from intellectual property. Depending on your situation, one or more specific approaches to earning income from your patents may be appropriate. We will reveal novel strategies to help you get the most out of your patent portfolio with several paths to monetization. These paths include:
Litigation
Licensing
How to get more money out of gross margins
Enhancing brand value and marketing using patents
Contractual Value and Transaction Leverage
How to price in the value of IP into the stock of your company
Episode 11 – Using Trade Secrets to Create Tremendous Value
In this episode, John unveils the power of trade secrets for your business. This episode answers questions like: what are trade secrets? How do you protect trade secrets? How to leverage trade secrets in business? And even, how to create new trade secrets for your business.
The topic areas include:
Defining Trade Secrets
How to protect trade secrets
Inventing Trade secrets for value
Patent part and trade secret part
Trade Secret Audit
Trade Secrets and the Courts
Trade Secrets, Blockchain, and cyber security
Episode 12 – The Secret Weapon of IP: Enabled Publications
In this episode you will learn everything you need to know about enabled publications. Often erroneously called "defensive publications," Enabled Publications offer a secret and powerful weapon in your IP arsenal. Learn about enabled publications, what they can do, how to document them, and how to use them to create the cheapest and most powerful "weapon" in the IP strategy. Learn this and your likely to improve the value of your current and future IP portfolio enormously and again, as crazy as it may sound, at extremely low cost. Topics discussed include:
History of Enabled Publications

Definition of Enabled Publications

How Enabled Publications are different from other publications

Documenting Enabled Publications

IP Strategies using Enabled Publications

The Future of Enabled Publications
Episode 13 – Invention vs. Innovation: What's the Difference?
Invention is the key tool driving innovation. In this episode, John provides a clear differentiation of invention and innovation that, once understood, could transform your business. Very few people understand this critical distinction. Why do innovation programs fail, even when they are well funded? What is the missing link between invention and innovation that can drive major breakthroughs in technology? This episode is perfect for managers who drive invention and innovation in their companies. Topics covered in this episode also include:
Why is this discussion even needed?
How companies struggle with innovation
Tools & Processes of Innovation
Invention Definition
Why companies struggle with invention
Invention Tools &Processes
Invention is the Key Tool Set of Innovation
Episode 14 – Avoid Patent Infringement with Freedom to Operate
In this episode, we'll cover freedom to operate (FTO), what it is and the many strategies that you can use to gain leverage for your company. Learn secrets very few companies know, and more importantly, learn how to protect your company from patent lawsuits. FTO will also let you know more about your competitor to build better products and services at very low costs. Topics covered in this episode include:
What is freedom to operate?
What are the next steps if there is an FTO risk?
Things that you can do if there is FTO risk. What are the tactics you can use?
How can you leverage FTO in your company?
How to build what you learn from FTO into your product development or IP strategy
The future of FTO
Episode 15 – Evidence of Use: Detecting Patent Infringement
In this episode, John discusses when patent owners should consider getting an 'Evidence of Use' (EoU) opinion. Evidence of use is a process of collecting material evidence that an outside party may be practicing the technology claimed in a patent. We will cover:
What is Evidence of Use (EoU)
How Can EoU leverage your company
EoU secrets only the experts know
How to Monetize Patents with EoU
Avoid pitfalls with EoU
Know more about your competitor and their products with EoU
Episode 16 – Teaching the World to Invent – An Interview with John Cronin and Mark Alyn Part 1

In this special episode, Mark Alyn joins host John Cronin in an interview format. They discuss John's background that lead to a career as an inventor, starting from childhood to becoming the top inventor at IBM, to founding ipCapital Group. Further, John and Mark discuss the process of invention, that starts with a problem that needs to be solved by a creative idea. Eventually, with the right tools that creative idea can become an invention, and that invention can become a patent. This episode is great for anyone who wants an overview of the creative process that can lead to innovations in technology and business.
Episode 17 – Should Corporations Keep Inventing?

Part 2 of Mark Alyn's Interview with John Cronin, see part 1 here: https://www.youtube.com/watch?v=AEYgu… In this episode, John recalls building a "patent factory" during his tenure with IBM as an semiconductor engineer in the technology development department. This allowed him to become to top inventor at IBM and helped IP licensing at IBM grow to over a billion dollars a year in revenue. Next, John and Mark discuss the question, "Do corporations need to continue to invent?" It may seem obvious that the definitive answer is "Yes." John discusses various businesses needs and environments that drive the need for invention, and the types of creative strategies you might use to fill those needs. Also discussed in this Episode: The difference between invention and innovation Incremental invention versus breakthrough inventions First movers and fast followers Ad hoc invention processes and why they don't work Inventor recognition Building a culture for creativity and invention How AI is changing intellectual property
Episode 18 – How Much is a Patent Worth?
In this episode, we will discuss how to figure out how much a patent is worth. This episode will cover six topics relating to patent valuation.
Topic 1 – What is a patent valuation?
Topic 2 – how are valuations used in transactions like patent licensing?
Topic 3 – How patent owners without a business can leverage patent valuation
Topic 4 – How a patent owner in an early-stage business can leverage a patent valuation
Topic 5 – How do you increase the valuation of your patents?
Topic 6 – Use a patent valuation to determine your future IP strategy Join John to learn about what a patent valuation is and the basic principles of how it's used and, most important, how you can use it for licensing to make money.
Episode 19 – How to Make Money with Patents
In this episode, John discusses the many ways of monetizing – or making money with – a patent portfolio. To be successful with a patent monetization strategy you'll need a systematic approach. John speaks from decades of experience in intellectual property deals and licensing with ipCapital Group and while at IBM.
The topic areas for this episode include:
1 – How to find out who to sell or license your patents
2 – How to prepare for a patent sale – getting your house in order
3 – The Market Pull method
4 – The Market Push method
5 – Starting and Supporting a patent monetization campaign
6 – Patent negotiations and closing a deal
Episode 20 – IP Due Diligence to Enhance Company Value
Due Diligence on a company's intellectual property can become the cornerstone of valuing a business for investment & fundraising as well as mergers & acquisitions. However, without the right strategy, many companies stumble on this crucial step. In this episode, we will cover everything you need to know to get started on your IP Due Diligence journey. We will answer: Why is it done? Who want's it done? What is the process? What are the potential outcomes? Most importantly, we will explain how to leverage IP Due Diligence to enhance the value of the company.
The topic areas of this episode include:
What are the types of due diligence a business may undergo? Where does IP Due Diligence fit in?
What is an IP Due Diligence?
What is the company's point of view in an IP Due Diligence?
What is the investor or acquirer's point of view in an IP Due Diligence?
What happens if IP Due Diligence reveals problems?
How IP Due Diligence can affect other areas of business.
Episode 21 – IP Strategy for Businesses and Inventors
In this episode, John will teach you the basics of Intellectual property (IP) strategy and intellectual asset management. By leveraging data, best practices, and game-winning strategy throughout your process, IP strategy can leverage your business unlike any other type of asset. The topics covered in today's episode include:
The definition of IP strategy
IP strategy at different corporate levels
Data and analysis for IP strategy
Intellectual asset management processes
Documenting IP strategically (Patents, Trade Secrets, and Publications)
Small vs. Large Companies
Episode 22 – Prior Art For Invention: The Journey You Should Start Packing For
In this episode, John discusses important issues surrounding prior art from many perspectives: not just how the patent office views prior art, but how to understand how prior art impacts inventors and businesses. With a strategic understanding of the prior art in a technology space, businesses can leverage their knowledge of prior art for a competitive advantage, instead of fearing it will prevent them from getting a patent, or worse, reducing their freedom to operate. The topic areas of this episode include:
Definition of Prior Art and why should we talk about it?
Methods of finding Prior Art and why you need expertise
Prior Art and the Patent Office
Strategies for using Prior Art for leverage
Prior Art and Inventing
The Future or Prior Art – some predictions
Episode 23 – What to do when your patent is infringed?
What do you do when you find out your patent is being infringed? Many companies with sizeable or even small but important patent portfolios have asked themselves this very question. In this episode of Invent Anything, John answers many of the common questions that patent owners have when they think some one is using their invention illegally. The six topics of this episode include:
1 – Evidence that your patent is being infringed
2 – Patent Valuation and Risk Assessment, Licensing Damages
3 – Size the problem
4 – Control all communications
5 – various response and approaches to combatting infringement
6 – Other points of interest
Episode 24 – Telling Your IP Story to Investors and the Market
Developing intellectual property can be difficult and costly, so how do you communicate the value that IP offers to a business and market? While data and analysis can be important technical tools, it is much easier for most busy investors and executives to believe a compelling story. In this episode, John will teach you how to tell your IP Story to get the most value out of your intellectual property, like patents and trade secrets.
Topics in this Episode include:
1 – What is an IP Story?
2 – What types of IP are used in the story?
3 – Tying your IP to Business, Market, Technology, and Inventions
4 – Creating the IP Story for different audiences
5 – How to Use the IP Story for Business Value
6 – Other Benefits of the IP Story
Episode 25 – How to Write Provisional Patent Applications
In today's episode, John discusses the process to create a power intellectual property tool: provisional patent applications. Provisional applications can be leveraged in many and offer strategic advantages to businesses and inventors. The topics in today's episode include:
1 – What is a Provisional Application?
2 – Types of Provisional Applications
3 – Strategic Uses of Provisional Applications
4 – How Provisional Applications Can Provide Unique Leverage
5 – Provisional Applications for Medium and Large-sized Companies
6 – Provisional Applications for Small Companies
Episode 26 – Does Your Business Need Intellectual Property?
Episode 27 – How to Stop Copycats from Using Your IP
In today's episode, John will teach you how to deal with copycat companies and win the war against IP infringement. If you've invested time and money into your technology, the last thing you want is another company profiting off your hard-earned developments. Whether you need to prepare for this possibility, or arm yourself to deal with copycat issues immediately, this episode will give you the tools to succeed. The topics in this episode are:
1 – Definition of a Copycat
2 – Analyze Your Market Approach
3 – Inventive Thinking to Stop Copycats
4 – Creative Vigilance to Watch for Copycats
5 – Preparing for Copycats
6 – Actions Against Copycats
Episode 28 – How to Invent Around Any Patent or Technology
Is there a patent stopping your business from moving forward or increasing market share? Do you have a new technology or patent that you think will be valuable, but you're worried your competitors might be able to figure out how to get the same benefits without you? The magic of inventing around patents is for you. Any patent can be invented around, either to avoid needing a license to a patent or infringing on a patent, or to strengthen your own portfolio so that its harder for competitors to get around you. In this episode we will cover six topics
1 – What is inventing around and why you should do it
2 – The Ad Hoc method of inventing around and its limitations
3 – The Invent Around Checklist
4 – Examples of invent around
5 – Strategies for using an invent around process
6 – The future of invent around
Episode 29 – Unlock Hidden Intellectual Property with the ipScan
Do you work with an innovative team, but can't seem to figure out how why they never produce any IP, like patents and trade secrets? Many inventors have lots of great ideas but seem to have trouble getting them out of their head, on to paper, and filed with the patent office. The ipScan is here to help. The ipScan has been used for over 25 years extract the unlock the hidden value in inventive teams.
This episode covers six topics:
1 – The history of invention extraction
2 – Formal invention extraction techniques
3 – Strategies for using the ipScan, what you get from a formal IP extraction process
4 – Difference between ipScan and brainstorming
5 – How an ipScan is set up, executed, what the results look like, and benefits
6 – Future of ipScan, using artificial intelligence
Episode 30 – The IP Landscape: Know Your Business
To truly know your business, you need to understand your IP Landscape. How does your business, market, product, and technology fit into the world's intellectual property system? Find out in today's episode. The topic areas for this episode include:
1. The History of Patent Mapping
2. How the IP Landscape Method Evolved
3. The IP Landscape Framework
4. Analyzing Patent Data with the IP Landscape
5. The Many Uses of the IP Landscape
6. The Future of the IP Landscape
Episode 31 – IP Analytics: Data-Based Patent Strategy
In this episode, John discusses IP Analytics. Which allows you to use data from the patent office top find unique and valuable insights. IP Analysis can provide new directions for R&D, positioning or your company against (or protecting your company from) a competitor, and increasing the value of your company in a merger or acquisition.
History of IP Analysis
How Companies use IP Analysis
Unique "Business Issues" we have found can be answered with IP Analysis
Patent Databases, Searching and Caveats
What level and Type of IP Analysis is needed
The Future of IP Analysis
Episode 32 – Get More Patents with Invention On Demand
What if there was a way to create more inventions in less time with lower costs, that empowered your team to be more creative and gave your business leverage over competitors and partners? Revolutionize Your Business with the Power of Invention On Demand – Say Goodbye to Limits and Hello to Limitless Possibilities! In this episode, the topics covered include:
1. History and experiences with Invention on Demand
2. Fundamentals of Facilitating Invention on Demand
3. Invention on Demand Experiences
4. Benefits of Invention on Demand
5. Some Advanced Strategies of Invention on Demand
6. Future of Invention of Demand
Episode 33 – IP and Innovation in the Music Industry
Introducing Seth Cronin as host of Invent Anything. In this episode, Seth discusses emerging innovation in the music industry and the technology that is shaping the ways in which music is created, recorded, distributed, discovered, and performed. The topics covered in this episode include:
1. Creating music: examples of patentable inventions that change the way musicians create and perform music
2. recording music: new technologies that change the recording process, including hardware, software, and analysis
3. Performing music: the modern technology for musical performance has evolved greatly in recent years, with new modes of experience like holographs, immersive devices and reactive lighting
4. Listening to and streaming music: in the last few decades the way we consume music has changed dramatically, streaming services, connected speakers, voice control
5. Music discovery: largely due to streaming services, the way individuals discover new music has shifted in the 21st century. Algorithms now large try not only to predict new music the listeners will enjoy, but also present them in a context the users are mostly likely to have a positive reaction to. E.g., placing a new track the user has never listened to before after several similar tracks the user has already "liked" or listen to repeatedly.
6. The technical world of digital music: audio compression, digital watermarking, encoding and distribution
7. The future of music technology We also discuss major patent lawsuits, examples of innovative types of music experiences, and even how Copyright may play a weaker role in the future of the music industry as music technology accelerates.
Episode 34 – Breathing New Life into Your Business with IP Strategies – Part 1 | Invent Anything
Discover how Intellectual Property can revitalize your business by improving employee morale, boosting sales, strengthening your brand, fostering innovation, and enhancing business relationships. Tune in for 10 actionable tips to harness the power of IP. Topic 1 Enhance Employee Morale Topic 2 Increase sales Topic 3 Improve your Brand Topic 4 Create innovative products enhancements Topic 5 Enhance and Control Business relationships
Episode 35 – Revitalize Your Business with IP Strategies: Part 2

Continue your journey to transform your business with Intellectual Property in Part 2. Learn how IP can reduce risk, minimize liability, save money, attract valuable partners, and secure funding. Don't miss these expert insights and success stories.
Topic 1 Reduce Business Risk
Topic 2 Reduce Liability
Topic 3 Save Money
Topic 4 Attract new business partners and business relationships
Topic 5 Raise Money Successfully
Episode 36 – How Provisional Patents Fuel Innovation and Success from Every Angle
In this episode of Invent Anything, we dive deep into the world of provisional patents and explore how they can drive innovation, protect intellectual property, and catalyze success for board members, investors, CEOs, CTOs, CFOs, and inventors alike. Don't miss our in-depth analysis of each perspective, with a special focus on the inventor's viewpoint, as we reveal valuable insights, tips, and strategies to help you navigate the ever-changing landscape of intellectual property and stay ahead of the competition. Tune in now to harness the power of provisional patents and supercharge your path to success!
Episode 38 – How to Sell Your Patent – Part I
In this episode of "Invent Anything", John Cronin guides us through the process of selling a patent. The episode is divided into six topics.
Topic 1: The Basics
We start with the basics, where John highlights how patents can underscore the innovative qualities of a product or technology. He further explains how these traits can be used to gain a competitive advantage and secure agreements or partnerships.
Topic 2: Patent Citations
The discussion then progresses to patent citations. John deconstructs the complexities of citation dates, numbers, and their relevance, advising listeners on how to identify potential buyers from citations and how to use them to enhance the selling process.
Topic 3: Press Releases
In the third segment, we explore the often-underrated tool of press releases. John talks about how a well-structured press release can bring to light the value of your patents, tying it into the broader narrative and employing third-party professionals for an effective reach.
Topic 4: Patent Valuation
Next, John delves into patent valuations, stressing the significance of understanding your patent's value before stepping into the market. He shares an intriguing case study and discusses potential buyers, royalty rates, and the time and effort involved in the selling process.
Topic 5: Trojan Horses
The fifth segment introduces us to the concept of "Trojan horses". John unveils various tactics to bypass gatekeepers, such as mergers and acquisitions, joint ventures, partnerships, and prototype development. He suggests enlisting expert help to leverage these strategies effectively.
Topic 6: Selling to Large Companies
Finally, the episode concludes with an in-depth look at selling to large companies. John outlines the importance of establishing the right hooks – product, patent, and internal messaging – and building strong relationships to facilitate the sale. He provides insights into the negotiation process, empowering listeners to sell from a position of strength. From start to end, John Cronin ensures a comprehensive, educational, and practical approach to selling your patent in this first part of a two-part series.
Episode 39 – How to Sell Your Patent – Part II
Get ready for an enlightening episode of Invent Anything! In Part 2 of our series on selling patents, we'll be providing a detailed guide to the art and strategy of patent sales. Whether you're a veteran inventor looking to make the most of your portfolio or a newbie just starting in the patent world, this episode has insights for everyone.
Topic 1:
We'll be kicking things off with the top ten pitfalls to avoid when selling a patent. Navigating the patent market can be a tricky affair, and these tips will help you steer clear of the most common obstacles.
Topic 2:
Next, we'll explore the best practices to enhance your patent sale's success rate. We'll cover everything from valuation methods, pitch crafting, potential buyer identification, negotiation strategies, and more.
Topic 3:
The episode will also feature a comprehensive discussion on the effective use of Evidence of Use (EOU) of Patent Infringement. Learn how to use this tool to prove your patent's value and improve your chances of securing a sale.
Topic 4:
We'll also delve into the issue of Prior Art, which can challenge the validity of your patents and consequently affect your sales. Learn the strategies to overcome these invalidity arguments and confidently present your patent's worth to potential buyers.
Topic 5:
Interestingly, we also shed light on a less explored market of selling to small companies, along with compelling reasons why this could be a viable route for your patent sales.
Topic 6:
Finally, we will cap the episode by diving into the power of automation in the patent sales process. From creating efficient systems to using AI-powered platforms, discover how automation can streamline your sales efforts and enhance your patent portfolio's profitability. In a special focus, we chose topic 6 to highlight how varying business sizes affect intellectual property strategies. Stay tuned to navigate the complex world of patent sales and successfully monetize your inventions. Tune in and get ready to Invent Anything!
Episode 40 – ChatGPT for Patent Counsel and Inventors
In this episode of "Invent Anything," we delve into the intriguing world of AI-driven automation, particularly focusing on technologies akin to ChatGPT. We explore how this digital revolution impacts patent counsels and inventors, compelling them to employ creativity and systematic thinking tools to maintain their competitive edge. Join us as we investigate how these tools can be harnessed to foster fresh thinking approaches, facilitate decision-making, and solve complex problems. As AI reshapes the roles of patent counsels and sets new standards for inventors, we will discuss strategies to stay ahead in this transforming landscape. This episode will illuminate how the right tools can enhance patent applications, align inventions with commercial opportunities, and help overcome challenges like prior art. Tune in to discover how to direct inventions for forward-patents, fill the IP white space, and reposition size in your IP strategy. The future of invention is here. Are you ready to reinvent?
Topics Covered:
#1 Introduction See blog https://tinyurl.com/yckm9fda
# 2 Harness Creative Thinking and Systematic Think Tools – see blog https://tinyurl.com/2y2ed64x
#3 Ways to Supercharge Patent Counsel's Patenting Results: see blog https://tinyurl.com/mr4bpsdk
# 4 Using Creativity and Systematic Inventing Tools to Overcome Prior Art: see blog https://tinyurl.com/yvm42pbk
#5 Creativity Tools for Filling the IP White Space: a Guide for Counsel and Inventors Patent counsels see blog https://tinyurl.com/mtjv468v
#6 Patent Counsels and Inventors Could Use Creativity Tools to Direct Invention for Forward-Patents see blog https://tinyurl.com/2vfm4dwc