POSTED BY John Cronin and Nathan Doudera AT 1:20 P.M. July 25, 2012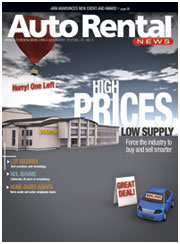 The prevalence of technology in the car rental industry has been rapidly increasing in recent years. Online reservations, smartphone applications, and automated systems are a few examples of technologies that have recently become part of the car rental process. This trend is certain to continue, and the future of the car rental industry will be ripe with technological enhancements. The rise in the prevalence of technology in the car rental industry is creating the possibility of an industry disruption due to intellectual property. In the past ten years, there has been a huge spike in the number of filings of rental car related patents. Many of these patents are held by non-practicing entities. Recently, Hertz, Enterprise, and Avis have all been sued for alleged infringement of technology patents. Going forward, car rental companies that acknowledge and prepare for the increasing importance of IP will stand to benefit, while companies that ignore the importance of IP will suffer.
Published July 2012 by Auto Rental News, written by John Cronin and Nathan Doudera.
Read the full article here.