POSTED BY Michael D'Andrea AND Eva Carreira AT 10:08 A.M. Nov 23, 2016
In our previous post, "China and the next Great Wall," in which we described the country's movement towards an innovation-based economy, we posited two potential paths (pictured below) for economic development for the world's second largest economy.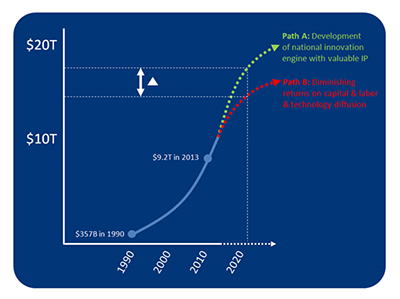 Several factors indicate that China is taking steps to, at a minimum, mitigate their risk of following the path of diminishing returns on capital, labor. and technology diffusion. As we previously laid out, in order to advance on a path of more rapid economic growth, China needs to develop infrastructure that promotes innovation. Their history of largely ignoring foreign patents is changing quickly as their largest technology companies look for meaningful IP protections for their innovations. China seems to be well underway in the development of a solid IP national system for protection of IP rights. R&D investment and new regulations for equity investments spark innovation, while stronger patent laws and more fair litigation demonstrate the country's approach to IP protection.

From the research & development standpoint, China has mostly been a fast follower. However, the increase in R&D spending, which is growing at a faster pace than in any other Western country, is helping China become a tech developer with a global presence in many areas, such as mobile devices. [1] The starkest evidence of China's increase in R&D spending can be seen in the volume of patents filed by Chinese universities, which are the largest recipients of government research funds. The chart below, illustrating the volume of patents filed each year by Chinese universities, shows the 1857% increase in patents filed in just the past twelve years.
At the same time, technology firms are at the top of the priority list for new equity investments. In that regard, China announced a pilot program to allow selected commercial banks to set up equity investment arms. While intellectual property filing trends are indicative of research and development spending, that IP is only as valuable as the system of protections around it is sound.
From the intellectual property viewpoint, China's IP system is growing incredibly fast and is being complemented by an IP rights protection system with stronger patent laws. [2] Chinese technology firms, such as Huawei, ZTE, and Lenovo, are also building their portfolios to strengthen their global presence, while minimizing risk for lawsuits when operating in China and abroad.
In 2014, the number of new patent applications in China (928,177) outstripped the combined total in its next-closest followers, the United States and Japan (578,802 and 325,989 respectively). [3]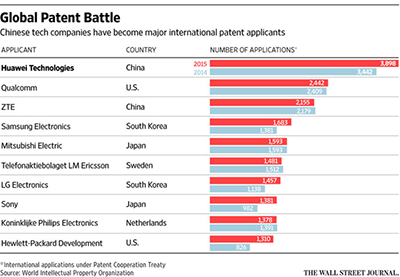 While China and the U.S. seem to be facing problems with patent quality control issues [4], China has been making progress in the fairness of the litigation process when protecting IP rights. In a recent study conducted by Santa Clara University School of Law, [5] it was found that non-Chinese firms win their lawsuits against Chinese patentees about half the time.
This new environment where China becomes a technology incubator together with the strengthening of the Chinese IP legal system shows the fast progress China is making towards an innovation-based economy. Any company involved in this new paradigm will need to develop an IP strategy to protect its interest in a still evolving landscape.
---
Sources:
1 – January 10, 2016 Wall Street Journal – The Rise of China's Innovation Machine
2 – July 7, 2016 Wall Street Journal – Stronger Chinese Patent Laws Also Help U.S. Companies
3 – December 14, 2015 World International Patent Organization – Global Patent Filings Rise in 2014 for Fifth Straight Year; China Driving Growth
4 – July 20, 2016 Washington Post – Patent lawsuits swell and watchdog says the government is to blame
5 – February 23, 2016 – Santa Clara Law Digital Commons – Patent Litigation in China: Protecting Rights or the Local Economy?