By: Michael Baker and Seth Cronin
The decision to acquire a company and its assets involves many strategic considerations including the products and services, user base, and the underlying technology. Another aspect which is commonly overlooked by potential acquisition targets is the strength of their intellectual property ("IP") portfolio. Patents add intangible value to a company which can be particularly useful to startups and small businesses. Patents not only increase the likelihood and value of an acquisition exit strategy but can also be leveraged to fuel a business' growth and development, all while protecting the technology from copycats.
Corporate acquisitions are often about more than the EBITDA and tangible assets that are included in the deal. Given the large sums of money an acquirer will spend in the transaction, the decision must provide a strategic advantage. The amount they are willing to spend will depend on their business goals. Typical reasons to acquire a company include:
Increase market share
Diversify customer base
Block competitors
Provide freedom to operate
Patent portfolios can play an important role in each of these business goals.
A strategically positioned patent portfolio can provide the owner an advantage by preventing competitors from replicating technology in their products and services. Without patents, there is nothing preventing competitors from introducing the same technology in their product lines. While patents are not the only consideration, they are a strong motivator and value creator, providing much needed leverage in negotiations.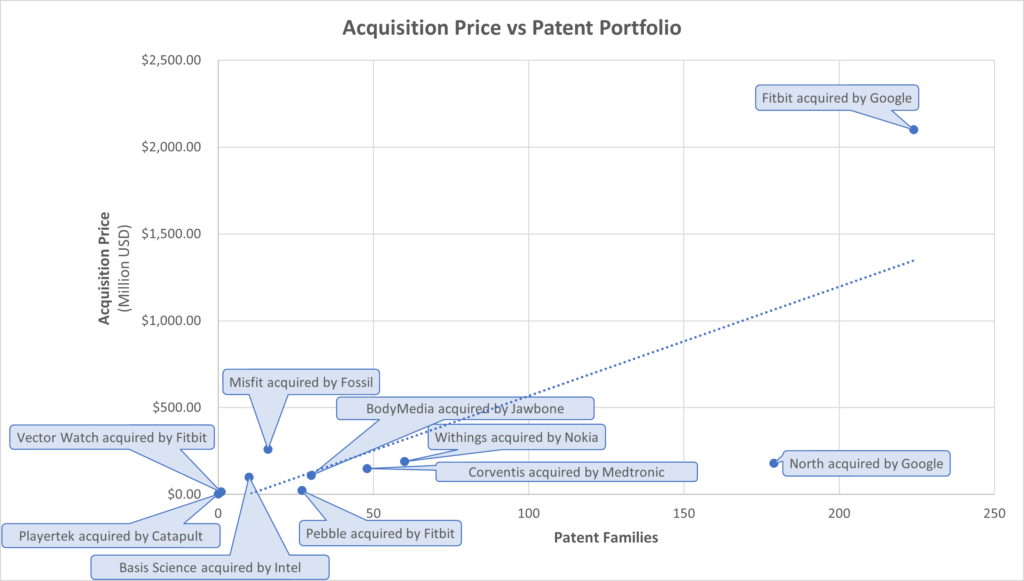 The graph above compares the acquisition price and patent portfolio size of ten companies that compete in wearable technology. Simple linear regression analysis shows an increase in the size of the patent portfolio of the acquired company correlates with an increase in transaction value.
As previously mentioned, patent portfolio size is not the only factor that influences acquisition price. The composition of a patent portfolio also plays a role in building value. A large portfolio of patents which are not well written or properly positioned can be worth less than a smaller portfolio which is built more strategically and/or of higher quality. Therefore, it is important to consider how the IP will fit into the broader technology landscape before filing patents.
Companies who are not looking to be acquired can still leverage the value of a patent portfolio. Well written patents can be valuable assets which can be leveraged to secure investment and asset-based loans. Additionally, a patent portfolio may be monetized through sales and licensing. Even if a company ultimately fails, a patent portfolio may allow the venture to still turn a profit, or at least allow for repayment of creditors and investors, maintaining goodwill, a positive reputation, and making it easier to secure funding and business partners in future endeavors.
Any startup considering acquisition as an exit strategy should also consider building or strengthening their patent portfolio. Even if an exit strategy is not on the horizon, practically any company with a technology focus can leverage a patent portfolio to fuel growth and increase the company's value.